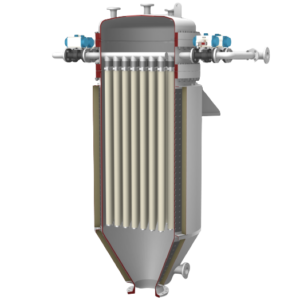 Polishing Candle Filters
Steri CANDLE filters are a comprehensive enclosed system designed to effectively remove solids as small as 0.2 micron. These advanced back-pulse filters are particularly suitable for refining liquids to meet strict standards and demanding specifications. The vertical orientation of the vessel and filter elements allows for greater filtration surface area relative to footprint.
The versatility of these CANDLE polishing filters allows them to cater to a wide range of applications. Depending on specific requirements, the filter elements can be constructed with porous sintered metal, multi-layer media, or fabric filter cloth installed candles. Solids within the slurry are efficiently separated through the traditional outside-in filtration process. Discharging of the collected solids is accomplished using the back-pulse technique, utilizing either gas or a compatible liquid.