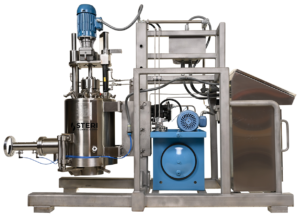 Totally Enclosed – Single Plate – Agitated Nutsche Filter Dryer
ZWAG filters are a family of totally enclosed, single-plate, Agitated Nutsche Filters Dryer (ANFD) for pressure filtration and vacuum drying. With integral heating and drying, multi-functional ZWAG filters are compact vacuum filters, versatile for manufacturing, pilot and laboratory applications.
ZWAG filters have been proven effective across a broad range of processes under widely differing and extremely demanding operating conditions. They can meet the most stringent emissions standards, and will operate reliably and safely even in the most aggressive environments. You'll find ZWAG filters to be productive in pharmaceutical, biotechnology, petrochemical and many specialty chemical processes.