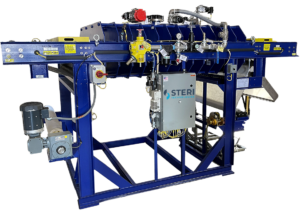 Continuous Indexing Pressure Belt Filter
Our Indexing Pressure Filter offers a unique combination of advantages, ensuring efficient removal of solids from your process liquid while maintaining exceptional reliability. This innovative design minimizes the need for complicated components such as carrier belts, pulleys, or moving filter chambers, resulting in a filter system with minimal moving parts.
With a focus on performance, our pressure filter delivers superior results, efficiently separating solids from the liquid. It achieves this without compromising on reliability, providing consistent operation and reducing maintenance issues to a minimum. Experience the highest level of performance and enjoy the benefits of a pressure filter system that requires minimal maintenance, ensuring a smooth and trouble-free filtration process.