Steri Technologies at SOCMA – April 2023
Apr 07, 2023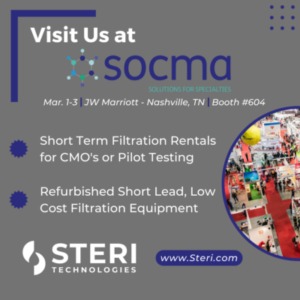 Steri Technologies is excited to announce that we will be attending and exhibiting at the upcoming SOCMA Nashville show March 1st – 3rd. Steri brings years of filtration expertise in the chemical manufacturing market, featuring our ZWAG Agitated Nutsche Filter and Funda Pressure Leaf Filter.
The Steri Team offers a wide range of solutions and has the equipment and knowledge to meet your filtration needs. From ready to ship rental equipment to meet the temporary demands for CMO's and pilot testing or more permanent solutions with the option of fully customizable new systems, or low cost short lead refurbished units.
Come stop by and see us in the Griffin Ballroom at Booth 604 and learn how Steri can improve your process to meet your short and long term production goals.